My name is Dejan Dragišić, I live in Niš, Serbia.
Since I was kid I have been in love with dogs. I spent all my childhood with them. My father was breeding German shepherds , so naturally, it was my first dog.
Love towards dobermanns started in 1980. when my friend bought dobermann whose name was Astor. From that moment, I knew I was going to breed this noble dog race.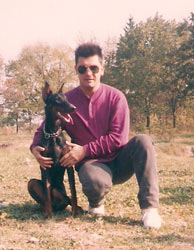 Dejan & Fara
First dobermann puppy I had bought in 90ies, it was beautiful female Fara (Fana).
1998. I bought female puppy in the kennel Ginga House, and her name was Andre Anasta Ginga House.
Buying that puppy was start of very close cooperation with Stevica Veličković who is the owner of Ginga House. Next 10 years it was good collaboration and all the puppies which I was breeding during that period owns that name – Ginga House.
In 2000. I got from Stevica puppy Grey Ginga House (Gina) and afterwards all my upbringing was based upon her. Today Grey Ginga House (Gina) has 8 years, and she was mated with: Baron Nike Renewal, Nitro del Rio Bianco, Fedor del Nasi, F'Hiram-Abif Royal Bell, and in May 2008. with Fedor del Nasi she got very beautiful descendants: Javier Naiss Ginga House, Mistyc Hazel Ginga House, Paola Naiss Ginga House, Pegasus Ginga House, Panama Baby Ginga House, Fanna Naiss Ginga House, Fabio Naiss Ginga House, Ecko Naiss Ginga House, Energo Naiss Ginga House, Enna Naiss Ginga House…
2008. I have decided to register my own kennel by the name "del Naissus".
Naissus is ancient name of my town, Niš, from Emperor Constantine's period. In fact, Niš got its name from the name Nišava which is the river that runs through city. The Celtic settlers called that river – Navissos. In Roman reign city was called Naissus, in Vizantine period Nysos, and Slavs named it Niš.
Emperor Constantine the Great was born in Niš. Blossom of the ancient Niš is associeted with his personality. Constantine the Great made from his native town a magnificent center of the region, the town was experienced political, economical and cultural blossom. Today, Niš is significant economic and academic center in Serbia.
It was not hard choice to take "del Naissus" for the kennel's name, and I am proud that it represents both my kennel and my town.
I have infinite support from my family, especially from my sons Jovan and Danilo. My father, Vukašin, is also great help for me.
I hope that you will enjoy browsing site – del Naissus !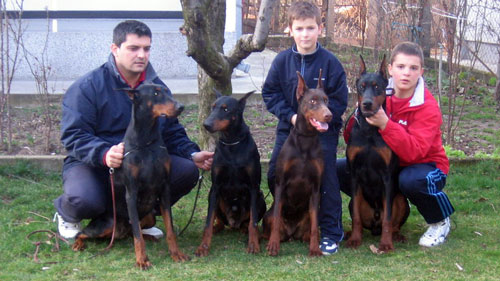 Dejan, Danilo and Jovan with Paola, Grey, Fanna and Fabio